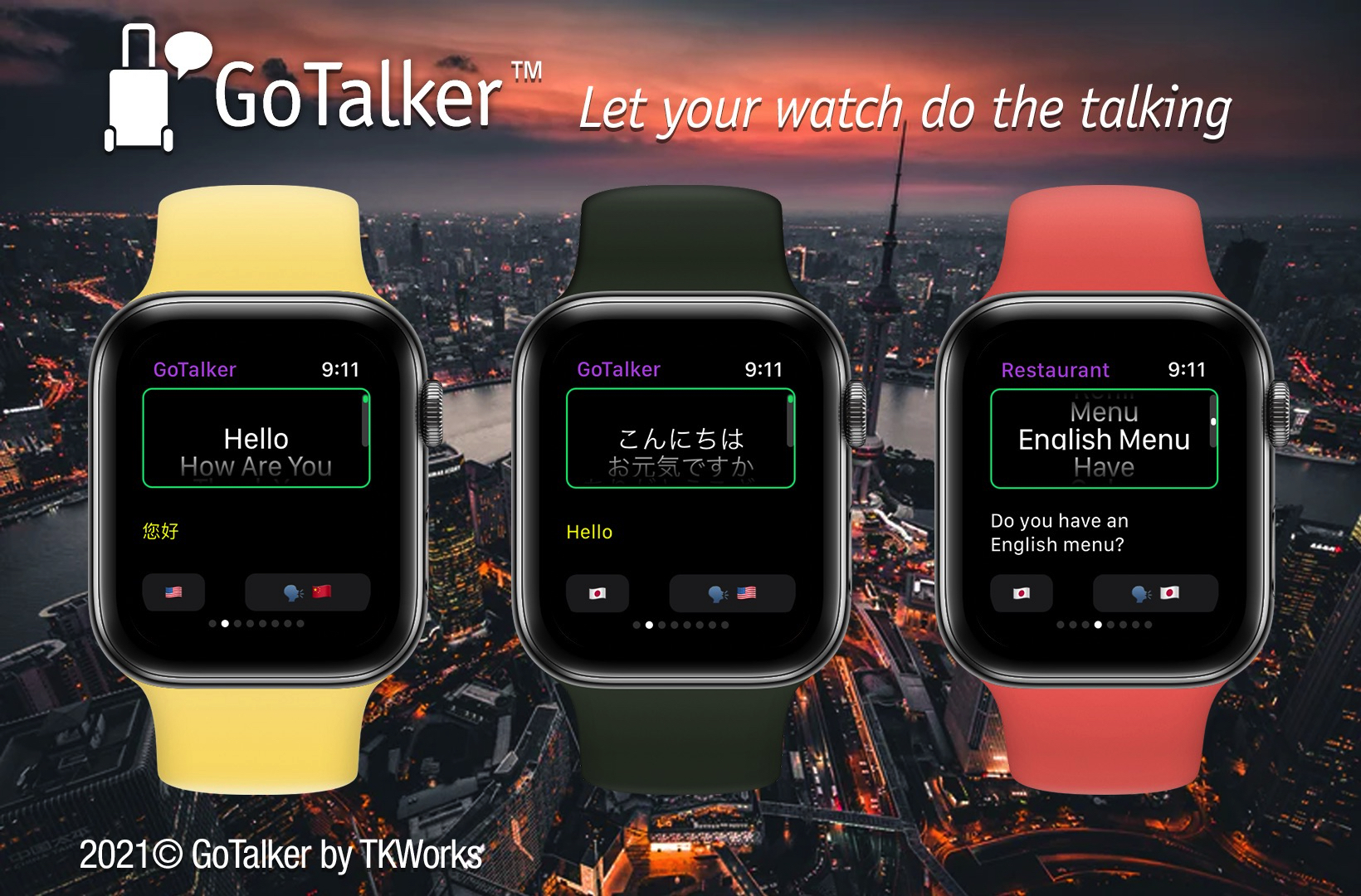 What is GoTalker?
GoTalker ™ gives you access to 750+ essential travel words and phrases in many languages. GoTalker removes the stress of communication so you can focus on enjoying your adventure.
Features
Find Phrases Fast: Find any phrase in seconds.

The Speedy6 ™ : 6 of the most common phrases instantly available.
Grouped by Category: From traveling, to dining, to the hotel and beyond...
Alphabetized Phrase List: Find any phrase in our vast database on one convenient screen.
Bargaining tool: Convenient number keypad allows you to speak any number from 5 pesos to 5,000,000 Yen.

Always Accessible: No phone, no data, no signal, NO PROBLEM. GoTalker only needs an Apple Watch.
Speak for you: The days of mispronouncing words from printed phrase books are over.
Top quality Translations: All phrases translated by native travel experts and professional translators.
And that spells FAST!
Languages
Currently, we support translations between:
Spanish
English
Chinese
Japanese
More on the way!
Is there a language you wish to see or a phrase you feel we left out? Leave us a review on the App store, or contact us directly! We will be happy to review it and include your suggestion!
Special Thanks
Special thanks to the following people, without whom GoTalker would not be what it is today.
Cuyler Gee, for his amazing logo and App Store page design.
My parents, Edgar and Jennifer Tu, for all of their guidance, support and encouragement, as well as contributing coding assistance and translations to this app.
Oriol Gomez, for working with me on producing an excellent Spanish translation.
GoTalker Privacy Statement
GoTalker does not collect or use any user data of any kind, beyond the anonymous data collected by Apple in the course of using apps from the App Store.
Contact
Have questions or suggestions? Simply click here to send me an e-mail.
---
Copyright 2021 TKWorks